It started with an interest in improving my own health. About 10 years ago I was a typical guy with no real interest in being healthy, was not exercising at all and ate what is considered the Standard American Diet. My typical style of eating consisted of burgers and fries, pizza, processed snack food, fast food, sugar laden deserts, etc. I was tired, lethargic, low energy and downright depressed. I did not like the frumpy guy I saw in the mirror every day!
I took up running, although it did not go so well at first I attempted to run, got tired, got demotivated, thought to myself, I cannot do this! I eventually found a supportive group that was very beginner friendly and training for a half marathon!


About this time my best friend Jayne, who was more like a sister to me was diagnosed with cancer. This was quite a blow to the entire family myself included. Cancer, really… how can this be possible?? At the time she lived 2 and a half hours away and I did not have a chance to see her very often, but we talked on the phone almost every day. I really did not know what to do with this news. Some people would internalize it others would ask why, for some reason I decided to dedicate my running to her which made me feel connected to her. I thought, "I can run for my sister Jayne, and dedicate my miles to her!" When I told Jayne of my idea it absolutely thrilled her, which ignited me! Suddenly it became my passion. Every mile I ran was for her, to honor her, and to uplift her. Every time I reported, "I ran 5 miles for you today." Or "I got up to 25 miles this week" it seemed to really lift her spirits. This motivated me to even run more.
About 5 months after her diagnosis, and a rather emotional visit to Tallahassee, I realized something, "My best friend is dying!" I came back home and prepared myself mentally for the inevitable. Praying for a miraculous turn around that did not seem to be in the cards.
A couple of months later, her mom called me and said she was going into hospice just because it would be much easier on the family to have that assistance in helping her and she was getting very weak. The next day I called to see how things were going and as it turns out Jayne took a turn for the worse, and at that I packed my bags and drove to Tallahassee. I prayed that she would hang on until I got there.
When I got there the rest of the family was there saying their good byes and surrounding her with love. It was a beautifully sad moment to walk into, but I was so glad that I made it in time. So rushing to hug the family members and reassuring each other that Jayne was about to go to a better place. About an hour later, while standing next to her bed, she took her last breath.
Being there in that moment was the culmination of all the worry, concern, anger, frustration, doubt and fear of the last several months! What do I do now?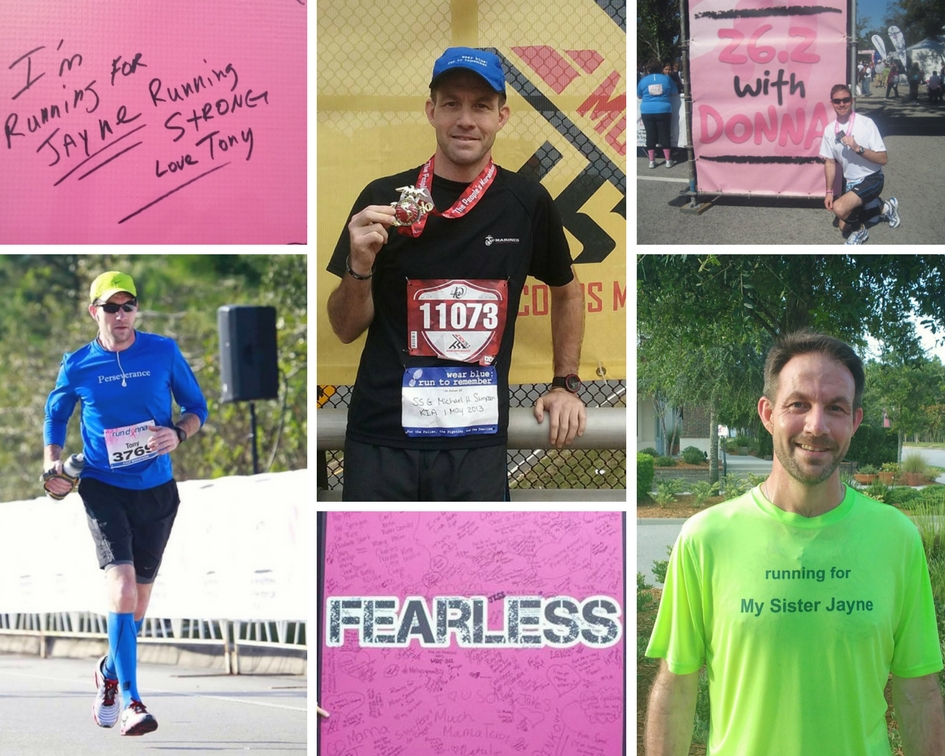 I continued running mostly to honor Jayne, but certainly to improve my own health. Part of me felt like I was running toward better health and away from things like cancer. I had heard that physical activity helps to reduce the chances for cancer, so I became very passionate about running to honor Jayne AND to improve my own health. So, it was time to start training for a marathon! The following year I did the Full Breast Cancer Marathon and LOVED IT! Over the next few years I would run several marathons and thousands of miles in training. Meanwhile, I started getting other people to run, helping to improve their health. I started hosting group runs in my free time and started a running ministry at my church. People were really inspired by my running and wanted to get healthier themselves. Often, they would ask my advice on running or other health related issues. I started doing my own research on running, shoes, proper form, injury prevention (which was right up my alley as a Licensed Massage Therapist.). Also, a big topic with running and working out is proper nutrition. I did my own research to see what is the right way to eat for an endurance athlete. I found myself talking more and more about health-related topics. And people asking me questions about my experience.
Then one fateful day a massage client of mine stated that he was frustrated with his weight, and personal trainers did not seem to work for him. Everything he tried he just could not stick with it. I offered to "coach" him because I had this natural interest in helping people become healthy. Over the course of one year I helped him lose 80 lbs. This is what lead me to want to take training to become a Certified Health Coach. I have taken two different health coaching courses one of which was the Institute of Integrative Nutrition. This is where I learned the true connection between food, exercise, stress and true health. The decisions we make every day has a direct effect on how healthy we are now AND later in life! When I started realizing that a lot of life threatening and chronic diseases are not really age related but lifestyle choice related and preventable, I was shocked! Things like cardiac disease, which is the top killer in the US by a large margin, stroke, type II diabetes, and many cancers are lifestyle related NOT age related! Eating a truly nutritious diet, being active/exercise, resting when tired, and working on lowering the stress in your life can DRASTICALLY reduce your risk for all of these! Diet and exercise, among other lifestyle choices has a direct impact on obesity, chronic fatigue, high blood pressure, irritable bowel, leaky gut, chronic pain and chronic inflammation…
It has also been known to halt these conditions in their tracks even reversing them.
So, what did all of this lead me to think? Perhaps, if I had known all this information years ago, could I have done something to help my best friend. Could I have helped to reduce her risk for cancer by showing her changes to her diet and lifestyle? I even spoke to her mother recently and made that point, "I wish I had known then what I know now!" From that conversation and subsequent soul searching, I thought, "What if I can help others?" What if I can share with others what I have been learning?" Would it make a difference in their lives? Of course it is too late to help Jayne, but just like I was running to honor her and it inspired people, perhaps I can coach people in the same way. A true inspiration of honoring Jayne by helping people NOW! I am not claiming to cure anything or give any medical advice. I am not a doctor, but what I can do is coach people! I can show them how positive of a change that diet, exercise, rest, reducing stress, and other lifestyle choices can DRASTICALLY effect your health in a profound and positive way!
To my Sister Jayne ~ I love you and I miss you, and this is how I chose to honor you by helping others!
Do you have any questions? Would you like my help reaching your own optimal health, feel free to contact me and we can discuss your goals. I am commited to helping YOU achieve a New Vibrant Life!
Click here to get the conversation started.